Products
Products

SAMTECH is constantly developing new technologies and production methods with the aim of producing better products at lower prices. At the core of these efforts is our mold design technology. SAMTECH has systems in place to deliver new products to customers within a quicker time frame by leveraging CAE (3D CAD and simulation software) to finalize optimal mold designs with an extremely quick turnaround, a feat only made possible with the company's standardized base of know-how built up over years of experience. This is made possible by our production facilities, down to our peripheral equipment, developed in-house to support ease of use and further technological developments.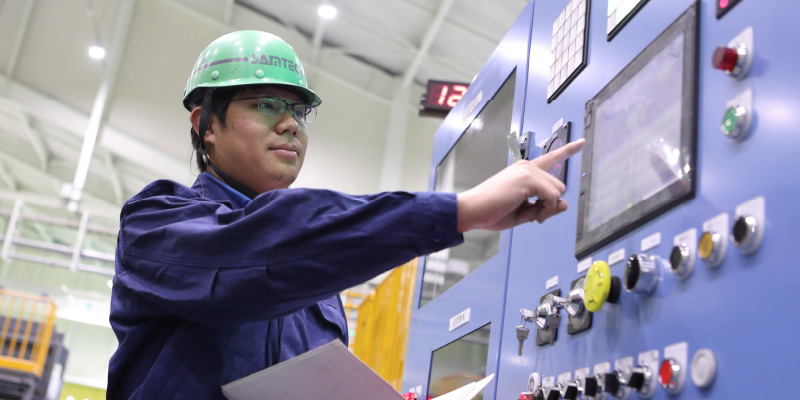 Customer Satisfaction
We deliver products that satisfy our customers by leveraging our production facilities, down to our peripheral equipment, developed in-house to support ease of use and further technological developments.
Quality Assurance
In order to live up to our management philosophy of "Contributing to society by delivering a prestige level of quality that captures the hearts and minds of our customers", we act with the goal of maintaining the highest level of quality in the world in the forging industry, and the results of these efforts are steadily bearing fruit.
Developing our quality
assurance system
In developing our quality assurance system we took particular care to avoid complacency, focusing on receiving third party certification to improve customer satisfaction and expand globally. Details of third-party certification acquired are as follows.
1997: IS09002
2001: QS-9000
2003: ISO/TSl6949 (IS0900l: Including the 2000 version)
2017: IATFl6949 (2016 version)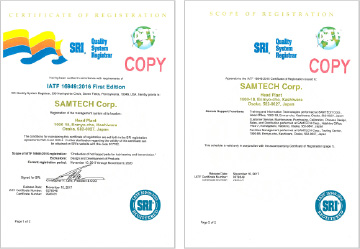 Quality Policy
All employees shall endeavor to work together as one in pursuing continuous improvement based on the following quality policy in an aim to develop products capable of delivering greater satisfaction and earning the trust of customers.
SAMTECH's Resource-saving and Energy-saving Production Technologies
Preserving the global environment is a common concern for people the world over. SAMTECH also extensively considers the environmental impact of all of its business activities. In addition to being an early mover in fuel-cell vehicles, we have greatly contributed to the conservation of steel and energy resources through the adoption of cold plasticity processing and in achieving ultra-small machining allowances previously thought unattainable in our core hot forging field, to name just a few examples. In its continued pursuit of energy-saving, waste-reduction, and pollution control, SAMTECH acquired ISO14001 certification in 2002. Looking ahead, the company will continue to actively engage in environmental measures that aim to leave a beautiful green world for the generations of tomorrow.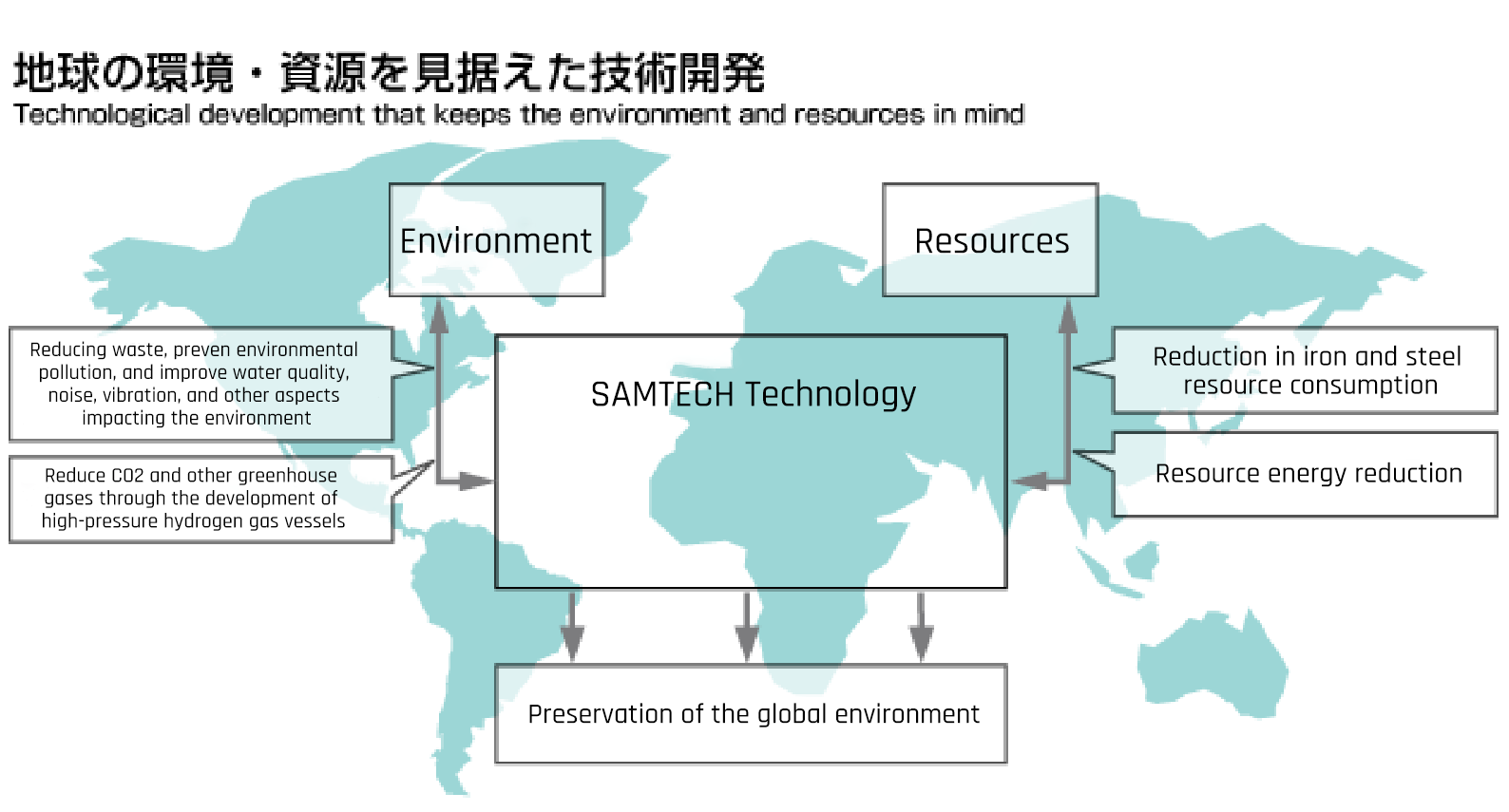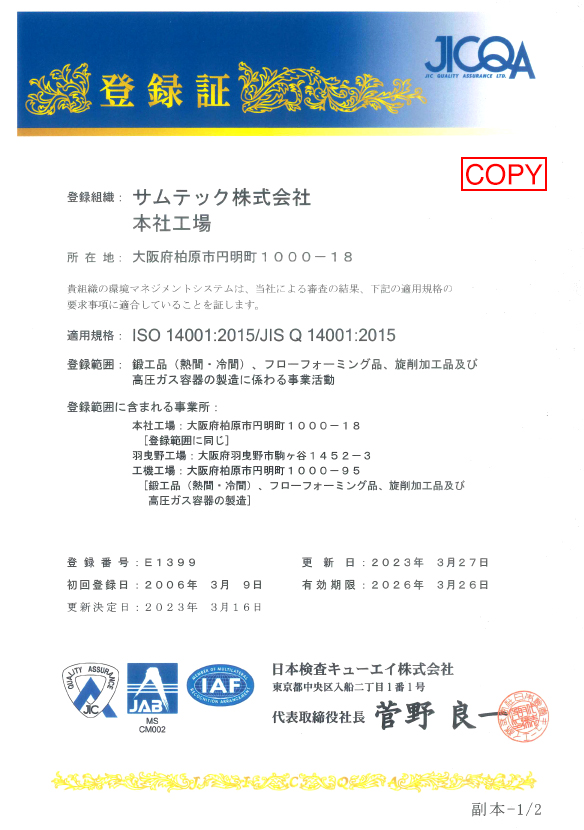 ISO14001 certification
Registered examination authority
JIC Quality Assurance Ltd.
Environmental Policy
SAMTECH Corporation sees efforts to promote the preservation of the global environment as one of the most pressing issues shared by people the world over. To this end, the company will look to fulfill its social responsibility as a good global citizen in actively addressing environmental conservation based on the following policy in an aim to achieve harmony between its corporate activities and the global environment.
SAMTECH is keenly aware that global environmental conservation is a vitally important mission for the company, and actively pursues global environment conservation activities at its own behest within its plastic working production activities.


To achieve harmony between our business activities and the environment, we develop environment management systems, and conduct regular internal audits and management-led reviews to improve environmental performance on a continual basis.


We observe environmental laws and regulations, ordinances, agreements, and other requirements to which the Company consents to in relation to the Company's business activities, and work to prevent the contamination of the environment.


We set environmental targets and objectives as part of environmental improvement efforts, and incorporate these into our business activities to be reviewed on a regular basis.


We strive to reduce the impact of our business activities on the environment while taking technical and economic considerations into account, and engage in the following as important themes for improvement as part of efforts to achieve a recycling-oriented society.

・ Promote activities reducing CO2 emissions into the environment
・ Reduce industrial waste volumes
・ Maintain and improve the global environment



This policy was prepared for dissemination among persons working within, and on behalf of, the organization, and was published at the request of external parties.

December 1, 2020 (revised)
SAMTECH Corporation
Yoshiki Sakaguchi, President